Texas AFT: April 15, 2022: April 15, 2022: New reports show a 'lost decade' for public education with declining wages for school employees; TEA Policy on "Obscene" Books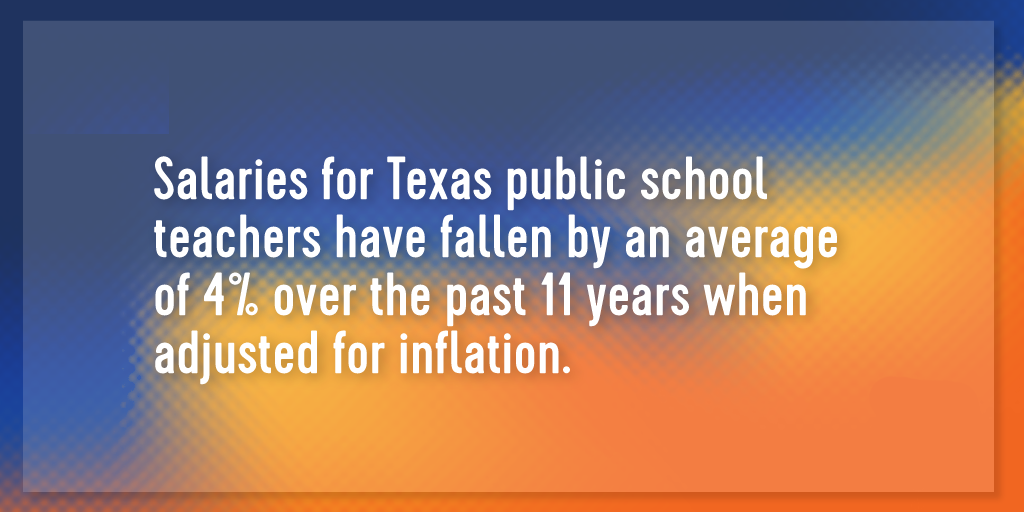 Without significant statewide investment in public school funding, Texas faces a crisis in retaining certified teachers and qualified school personnel. It's not just a disaster for those employees or the administrators who have to rehire the positions — it's a crisis for students who stand to lose crucial care and support after three pandemic-disrupted school years.
Texas AFT and Every Texan released a report this week highlighting "The Lost Decade" in Texas, a time when underfunded schools led to educators earning less money than ever before as students faced the consequences of a crisis to keep our teachers in the classroom.
As Texas AFT reported in January, a survey of its members showed that 66% had considered leaving their profession in the past year, and they said the top motivation for keeping them in teaching public was to increase their salaries. The report "The Lost Decade" sadly backs up their assertion of low salaries when it shows that, on average, teachers earn 4% less than they did in 2010 (after adjusting for inflation). While 4% is the average, statistics show that many educators earn up to 12% less. Meanwhile, many support staff workers are still teetering at the federal poverty level with embarrassing salaries.
"We need to think about who will suffer from lower educator pay and underfunding of our schools — our students," said Texas AFT President Zeph Capo. "We need consistency in our classrooms with well-educated, well-trained and inspired teachers and support staff who give our children the attention they deserve. Every lawmaker will tell you that public education is the most important investment we can make in our state. Yet when it comes time to finance this investment, they are just crickets.
The report explores how the latest School Funding Act, while initially pumping more money into public education, primarily addressed reducing the property tax rate (and primarily for businesses, for that matter) and hasn't given public education funding the continued boost it needs to fight declining salaries for school employees. The report also examines other issues driving teacher turnover and offers solutions to address the challenges.