DGA Governor meets with UN officials in New York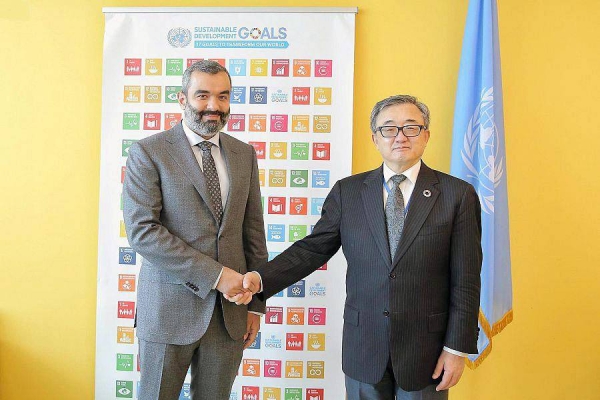 NEW YORK – Chairman of the Board of the Digital Government Authority (DGA) of Saudi Arabia Eng. Abdullah Bin Amer Al-Sawaha met on Saturday at the United Nations headquarters in New York with the Under-Secretary-General of the United Nations Department of Economic and Social Affairs Liu Zhenmin.
He also met with the Director of the Public Institutions and Digital Government Division (DPIDG) of the United Nations Department of Economic and Social Affairs (UN DESA), Juwang Zhu.
The meeting is part of Eng. Al-Sawaha's tour of the United States with the aim of strengthening bilateral relations in the areas of digital economy, research, innovation, space and best practices in the field of government digital.
This is in addition to highlighting the global leadership achieved by the Kingdom in the field of digital transformation of digital government and building smart cities based on the directives of the Kingdom's leadership and its ambitious Vision 2030 which adapts to modern energy and climate challenges to participate in efforts to build a sustainable future.
The President of the DGA also praised the qualitative leaps that the Kingdom is experiencing in various fields, in particular the field of communications and information technologies, and its impact on digital public services and the quality of life.
He also commended the efforts made to develop digital skills, prepare skills in the sectors of communications and information technology, research and innovation, and progress in the field of digital public services. — SPA