CASA pushes digitization of shipping industry processes – Business News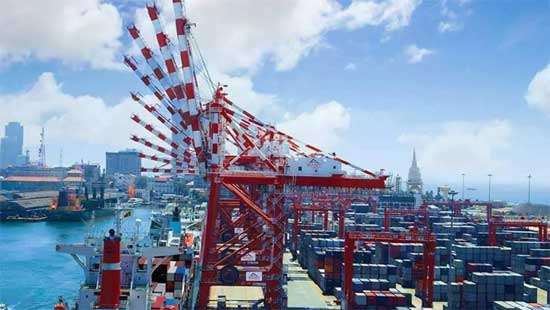 ---
Emphasizes the need for all border agencies to digitize shipping approvals and documents
Waste of resources in submitting hard copies and physical presence on ships
In its June 2022 publication, entitled "Global Economic Prospects", the World Bank Group highlights the effects of inflation, rising commodity prices, bottlenecks in global supply chains and financial conditions having an effect on slowing global growth, which could impact developing economies, which need to come up with a strong and far-reaching policy response to enable sustainable growth, to reduce vulnerabilities.
Sri Lanka also grapples with its own challenges and faces an uphill battle to overcome perhaps its worst economic crisis since independence.
However, with its strategic location amid major shipping routes to Southeast Asia, the Far East and the continents of Europe and America, the shipping and logistics industry remains optimistic and hopes to contribute positively to efforts to revive the country's economy.
However, a strong commitment to continuously improve the key focus areas of these efforts would be required, and trade facilitation efficiencies and process improvements can definitely be identified as one of them.
Simplification and modernization
One of the main areas of intervention in trade facilitation is the simplification and modernization of existing processes and practices between different stakeholders such as border agencies, ports and terminals, etc. through digitization.
Measuring the impact of trade facilitation agreements, the World Bank Group notes that a single day saved in global trade reduces the cost of traded goods by one percent and that the willingness to pay for such reductions in time by relevant stakeholders is estimated at US$210. billion per year.
The report highlights recent initiatives in several countries supporting trade and logistics facilitation initiatives in simplifying processes, which have resulted in reduced import/export time and financial savings for stakeholders.
Case studies and research show that countries in the Asia-Pacific region, which have taken steps to harness the use of digital technologies for cross-border business as well as in local day-to-day business related to trade processes, have brought great efficiency improvements for exporters, importers and other players in the logistics supply chains, contributing to their economies and enhancing their competitiveness.
Greater predictability and speed in business processes, coupled with savings in transaction costs, greatly benefits business communities, while better revenue collection and compliance help the public sector. It is argued that countries as a whole have the potential to attract investment and facilitate job creation and growth by reducing these trade-related delays and costs.
One such example appears in the success stories published by the World Trade Organization (WTO) on Korea's National Digital Trade Platform, highlighting the rapid growth in trade volumes valued at US$1.26 trillion. by 2021. This is attributed to the successful implementation of trade facilitation initiatives through customs modernization, National Single Window (NSW), implementation of the Agreement on trade facilitation and others.
It is common to note that Customs administrations become the focus when the subject of Trade Facilitation is discussed. Although the functions and activities of Customs administrations are an essential part of facilitation, a view from the perspective of the supply chain helps to understand the various dependencies between other actors, procedures and processes as well as the links between such parties as private sector traders, transport providers, service intermediaries and other public sector regulators.
This has led many countries to strive to harness digitalization to gain efficiency through automation, simplification, paperless trade, electronic data interchange, cashless transactions, etc.
Positive initiatives
From the perspective of the Ceylon Shipping Agents Association (CASA), several positive initiatives and steps have been taken by the public sector in Sri Lanka to improve processes in the past.
Some of the highlights can be listed as follows:
Customs facilitates the electronic submission of the customs declaration and the payment of customs duties online.
Facilities made available to electronically submit inbound ocean cargo manifests to Customs and the Sri Lanka Ports Authority (SLPA), resulting in the reduction of paper documents submitted to Customs and SLPA.
Electronic data interchange between container terminals to exchange container data for loading, unloading and gate movements.
Be a signatory to the WTO Trade Facilitation Agreement, which commits to speeding up trade procedures.
Implementation of a vessel payment platform by SLPA
COVID-19 related restrictions have seen the industry respond quickly to come up with measures to embrace digitalization to transact reducing human touchpoints. CASA worked closely with SLPA and the private terminals to agree on a process for container delivery/release orders from terminals using electronic documents. There have also been a number of initiatives with customs, which have helped reduce human-to-human interactions.
CASA has commended these efforts and has always played a supportive role in the successful implementation of such initiatives.
However, continuous improvement in this area is essential to maintain and increase Sri Lanka's competitiveness.
For example, the importance of reducing the use of hard copies in cargo clearance activities and vessel clearance applications at Sri Lankan Customs has been continuously emphasized by CASA. Although most of the information required by shipping agents is submitted electronically, the need to use hard copies in parallel has resulted in duplication of effort as well as wasted resources. This requires shipping agents to physically visit various institutions for customs clearance and other productivity-affecting purposes. These activities, among many others, have immense potential for further improvement in order to save significant time and cost losses for partners involved in shipping.
Regulations such as the Electronic Transactions Act have complemented digitization and paperless initiatives and the practical implementation to benefit from these laws will bode well for the industry.
Measures such as the Logistics Performance Index use speed, quality of service, ease of international shipping, customs procedures, among others, to compare and rank countries in areas for improving performance.
If one were to analyze the many success stories of digitizing commerce, the countries that have successful models today have not had an easy passage to reach their current state. These countries have evolved from relatively small offerings with limited scope to comprehensive national projects and platforms encompassing all stakeholders, providing seamless integration to achieve end-to-end business processes spanning many merchant activities, shipping companies, freight forwarders, banks and the government concerned. authorities.
We have seen a number of similar initiatives in the public sector in Sri Lanka, which are worth mentioning.
The creation of a trade information portal that provides traders with easy access to information on trade regulations and procedures in Sri Lanka.
Sri Lanka Customs has announced plans for a new platform named ASYHUB, which aims, among other things, to simplify and automate the exchange of information between parties and enable pre-clearance and allied efficiency of the cargo clearance.
SLPA is in discussions with CASA to improve the cargo release process as well as provide better visibility into key information that would result in significant time and effort savings.
SLPA is also spearheading a project on a study related to the Port Community System (PCS) and CASA has fully supported this initiative and is engaged in several related activities with knowledgeable consultants.
A project towards the implementation of an NSW, as an end result, involved all relevant stakeholders including CASA and reached a milestone with a master plan being developed for an NSW. Unfortunately, progress has stalled and the industry is unaware of its current status and next steps.
CASA believes that initiatives towards digitization and paperless transactions should be accelerated with all relevant parties coming together with clear outcomes in mind.
Essential element
The report published by UNCTAD and entitled "Review of Maritime Transport 2021", identifies digitalization as a key element to measure the improvement of trade facilitation, contributing to a paperless environment and online transactions reducing time and costs while increasing stakeholder transparency. He underlined that efficient maritime trade and transport will depend on the alignment and streamlining of different processes and the continued adoption of the digitalization and automation of trade procedures such as maritime single windows, which will be catalysts for growth in the industry.
Therefore, in conclusion, for Sri Lanka to remain relevant in the new digital world, it is essential that we embrace digitalization which would improve the efficiency and ease of doing business.